The driving force behind PortalFuse has always been about making Intune and Azure AD easier to use. The tricky part has been deciding what that means to our customers, so it was about time to get real people in front of PortalFuse and talk to them about their everyday experiences.
For everyone at PortalFuse, the beta test of the application was a huge milestone, one we've been looking forward to for a long time.
It didn't disappoint. The beta helped clarify things we were doing right and areas where we needed to spend more time improving. Leading up to the release of the beta test, our focus was to help an optimistically wide range of Intune and Azure users, from the helpdesk to system administrators.
The layout of the application and feature set reflected this perspective, and, until the beta, we didn't have much of an opportunity to sit down with people and ask them what they struggled with in day-to-day Azure AD and Intune management.
Some great people stepped up, with a wide range of backgrounds and customer environments, and at the end of 3 weeks, the team began working on the latest sprint. More on that later.
Three key takeaways:
Refocus PortalFuse to serve the needs of small and medium-sized enterprises struggling to deploy and manage a mobile device fleet through Intune.
Creating and managing configuration profiles for a lot of smaller organizations is a big problem that isn't going away.
Tracking and auditing Office 365 license usage was the most commonly requested feature.
Before jumping directly into the new features, I'll quickly recap the beta and go over some of the core business and technical factors that were motivating the beta test. Then we can talk about what's coming in the future.
A Quick Recap of the Beta
PortalFuse has been taking shape for the better part of 18 months and it was time to release our first stable version of the application. We had a number of goals that we wanted to focus on, and the most important one was to begin the process of involving our customers and community in the development process.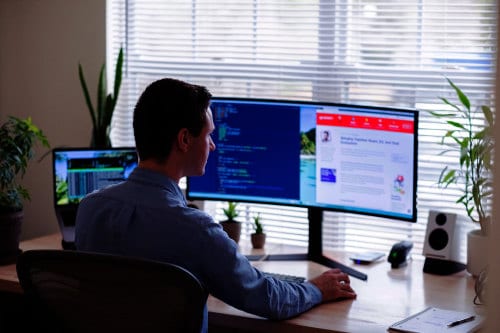 Until the beta, we kept the development process close to the vest and focused on solving problems based on our customer engagements and particular workflows. At last, we were ready to open that process up and start building a community, because that's where our hearts are at.
We also wanted to assess the usefulness of the features and options we had built as well as evaluate the functional architecture of the application.
As part of the beta, we hosted a number of workshops to allow our testers the opportunity to tell us their story, how they support users and what they wanted to achieve.
One theme that emerged was that small and even medium-sized organizations did not have the resources or technical experience to take on the responsibility of deploying, configuring, or maintaining their Intune deployment. Compounded by a rapid shift of transitioning large portions of the workforce into a cloud environment, and the introduction of many non-Windows devices to MDM we realized there was a significant opportunity for PortalFuse to help simplify the implementation of Intune.
The one area we came up short was that we didn't get the opportunity to fully stress test the infrastructure, but we'll be turning back to that in upcoming sprints.
Finally, the most requested feature that our product team received was the ability to easily track and audit license usage, both at the organizational level and the user level. Licensing remains a complicated and convoluted area of IT governance that is extremely difficult to manage because of the data available versus the problems our customers are presenting us with.
We closed the beta test in February, and have eagerly been preparing for the next sprint, which will take PortalFuse to our first production version. So let me showcase what you can expect in the next release.
Important Features and Usability Improvements in the Pipeline
User and Group License Assignments
One problem with auditing license assignments is that some licenses are assigned to the user directly, whereas others are assigned through group membership. Given the beta version didn't identify licenses assigned through group membership, we needed to add group assigned licenses. We were then able to add a visual indicator to the UI that indicates when there is a license overlap between user assigned and group assigned licenses.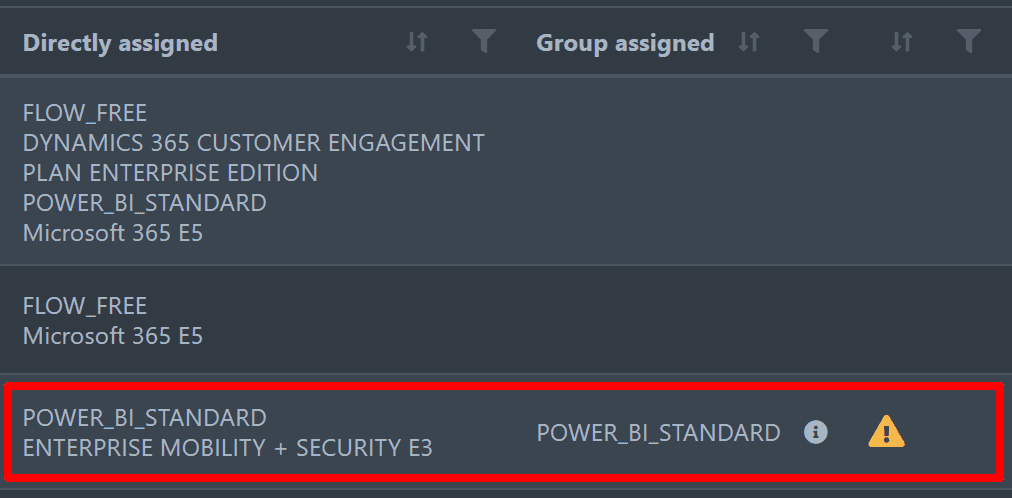 Direct and Group assigned licenses with duplicate assignments identified and indicated with the caution icon.
We made it easier to review licenses assigned to inactive users. This is a powerful feature that can save your company some money. We are building a report that you can use to quickly lookup these licenses and take action to remove the assignment.
Office 365 usage report
We are building a new Office 365 usage report that displays basic information for each application so that you can see which O365 applications are being used and identify issues such as poor adoption.
The report identifies whether the web-based or client-based application was accessed.

Office 365 license usage broken down by OS and type.
Profile configurations are at the heart of good Intune governance, so we've expanded what you can do with these policies and built a PortalFuse maintained policy repository that will hold industry-grade policy templates that you can use in your Intune tenant.
PortalFuse approved policy baselines released in version 1:
iOS corporate device restriction policy
iOS compliance
Android enterprise dedicated device restriction policy
Android compliance
Windows 10 device restriction policy
Windows 10 compliance
Windows 10 security baseline
Windows 10 Edge security baseline
Windows 10 Defender security baseline
We've also made it easier to backup existing policies, which allows you quickly save and redeploy profiles. Now when you backup a configuration profile, a copy is stored in your cloud. You can also download profiles to your local machine as JSON formatted files.
Consolidated Sign-in Error Details
We added extra information regarding sign-in errors under sign-in report page. Sign-in error descriptions will speed up the triage of support tickets because switching over to the Azure AD Sign-in logs requires a completely different portal. Our approach was to make the information more accessible for the support technician to quickly resolve the issue.
A Handy Profile Name Generator
We've wanted to release the configuration profile name generator for a long time and are finally able to squeeze it into a sprint. The name generator is a tool that helps you quickly generate a standardized profile name based on the OS and use case. Having a naming standard helps enormously, especially when exporting files to JSON or looking at all the policies in the tenant.
We first started by formalizing a name pattern that maximizes the readability and purpose of the profile. For example, one of the patterns for application configurations is:
<OS>_<PolicyType>_<Description>_<Environment>_<Version>
which would produce the following profile name:
And_App-Pro_AllProtectedApps_PRD_v1
The profile name generator is pre-populated with context-sensitive options that are curated by the team. In just a few clicks, you'll have easy-to-read and highly transparent profile names that you can use in your tenant to standardize profiles and keep the tenant and console clean.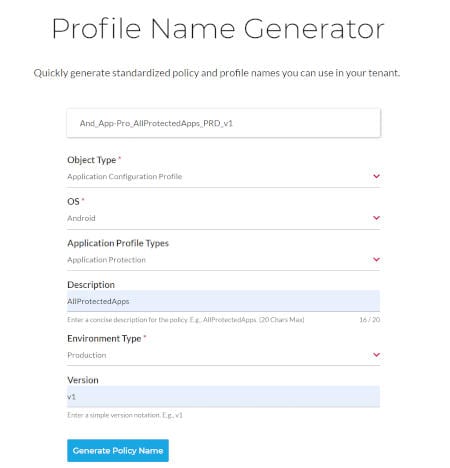 Create standardized configuration profile names that are concise and readable.
We've also planned to release a web-based version that the community can use. We believe standardized profile names are vital for well-managed environments and are working hard to promote a naming standard across the industry. Stay tuned for more details on our naming standards.
PortalFuse Development Timeline for the Coming Months
Next Release Scheduled for End of June 2021
The development team has been doing excellent work and are on schedule to release a major update to production near the end of June.
That brings our Beta Test recap to a close. We're excited about the direction that PortalFuse is taking and would love to show you what we've been working on.